Indoor ceiling-mounted Harmonys
Indoor ceiling-mounted ip/poe speaker
The Harmonys product range consists of audio equipment to broadcast a choice of programmed bell sounds, music, and live or recorded announcements.
Description Indoor ceiling-mounted IP/POE speaker
The ceiling-mounted speaker has a discreet design and sound quality suitable for programmed melodies, class change bells, public announcements and audio streams (WebRadio and WebMusic) in schools.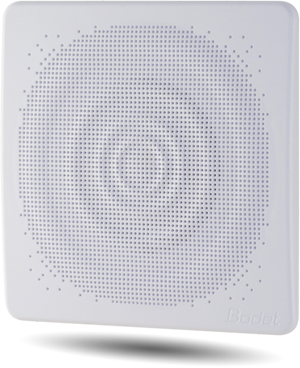 Technical features
Power supply: PoE (Power over Ethernet).
Output level: 90 dB.
Protection index: IP31.
Dimensions: H175 x W175 x D67mm.
Power: 13W.
Oprating mode
The speakers are controlled by a Bodet Sigma master clock.
Stores up to 30 MP3 bell sounds.
18 pre-installed bell sounds.
Associated with a zone.
8 volume levels.