Outdoor Harmonys
Outdoor IP sounder
The Harmonys product range consists of audio equipment to broadcast a choice of programmed bell sounds, music, and live or recorded announcements.
Description Outdoor IP Sounder
The Harmonys outdoor sounder has a protection index of IP 54 and operates at temperatures of between -30° and +85°C. This sounder is perfectly designed for outdoor school playgrounds.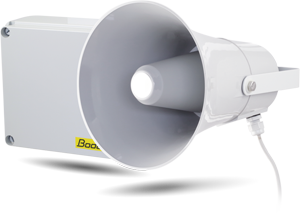 Technical features
Power supply: 110-240VAC.
Output level: 110 dB.
Protection index: IP54.
Dimensions HP: H254 x Ø203 mm.
Dimensions controller: H195 x W250 x D97,5 mm.
Power: 13W.
Operating mode
The sounders are controlled by a Bodet Sigma master clock.
Stores up to 30 MP3 bell sounds.
18 pre-installed bell sounds.
Associated with a zone.
8 volume levels.
Version with 2 speakers available.