Time servers
Time Servers
Delivering highly accurate time information to different computing equipment.
Bodet NTP time servers ensure time synchronisation on data networks using NTP and PTP protocols.
Why choose a time server?
Time synchronisation for your clocks and computing equipment
The development of information technology and IP network systems requires a reliable, accurate time reference. Internal clocks installed in computers and other hardware keep an imprecise measurement of time, most often no better than the minute.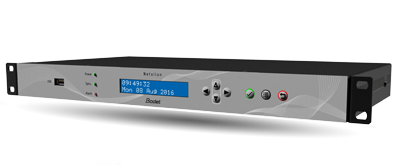 Bodet time servers combine the accuracy of a master clock and a secure approach to computing networks:
High-precision internal clock: Quartz TCXO or OCXO.
Multi-source synchronisation: GPS, GLONASS, BeiDou and IRIG with input synchronisation references being assigned a priority.
Modular design: Makes it possible to offer a wide variety of input and output signals with a variety of optional cards to choose from.
Network security management: Enable or disable encryption, authentication and access protocols.
Notification and supervision: SNMP traps, e-mail, and relay contact.
The safest and most reliable solution: A NTP time server
To sync your clocks with your computer network, the safest and most reliable method is having a dedicated NTP or SNTP time server.
The time server enables you to control access and authentication on your network.
A dedicated time server is protected from the Internet by the firewall.
The NTPv4 architecture makes it possible to achieve a time 10x more precise than with the old NTPv3 protocol.
Proximity (between the server and the network) ensures minimal lag between your time server and clocks, your computers and other hardware, thereby enabling a synchronised time distribution with even greater precision for your business.
Possible applications of the NTP server for Data Centers
Data Centers need a time domain on the order of a millisecond for platform virtualisation. The event timeline also makes it possible to retrace errors on the same scale of one millisecond.
Traceability ensures an automatic nightly backup requiring a precision of a tenth of a second. This enhances the reliability of daily backups.
The time server makes it possible to protect against time deviations caused by insufficiently stable electrical frequencies, which varies constantly around 50Hz in Europe.
Synchronisation provided by the NTP server enables reliable and robust clustering.
Example of NTP time server installation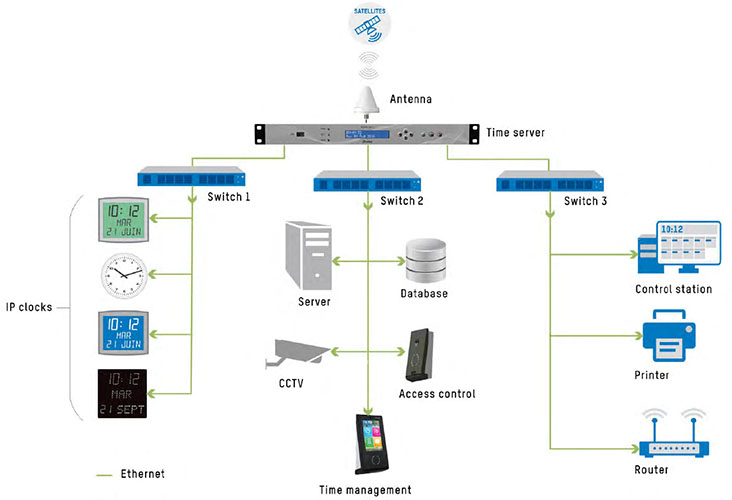 Remote management without installing software
Our NTP time servers can be configured and administered by a simple, user-friendly web interface.
Secure access to the web interface (HTTPS)
Simple to use
Configuration made easier with graphical icons
Performance status: Sources, outputs, alarms, etc.
Performance visualisation.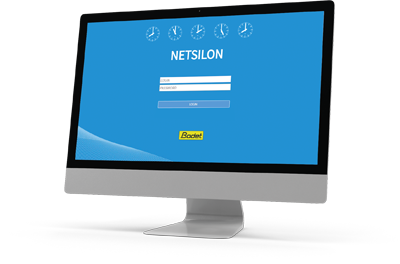 Reliability and traceability ensure by a dedicated time server
Our NTP time servers allows you to keep a chronological event log, with sub-microsecond precision, thereby enabling the timestamping and sequencing of activity on your computer network.
You can then ensure high-quality traceability, which is particularly suited to the requirements of industries like transport.
Possible applications of a time server in the transport sector
Companies in the transport industry also have a great interest in supporting their "information systems and networks" divisions with a time server that uses the NTP and PTP protocols, particularly to use their GPSs more effectively.
For an airplane flying at close to 1000 km/h (600 mph), being a single second off means a position error of over 250m. Having reliable time, including all parameters (time zones, leap years, etc.) becomes critical.
Sequencing activities for better performance
Whether in industry or health care, people and machines follow methods and processes to optimize their time and productivity.
Possible applications of time distribution in industry
The resulting high time resolution enables computing and/or robotic precision on a sub-millisecond scale, thereby enabling greater efficiency and production speed by coordinating the machines.
The sequencing of these activities thereby gains on automation, and the teams working with these machines are even more efficient.
Possible applications of time synchronisation in health care
For health care institutions, a time synchronisation system is particularly important to:
Ensure proper planning of medical teams.
Administer medication correctly at the right time and in the prescribed order.
Guarantee that surgeries proceed as they should.
Synchronising your clocks makes it possible to have a reliable time reference for all hospital staff on all of your clocks and all hardware on the network they use.
Netsilon 7 or Securesync?

NETSILON 7
Bodet

---

Internal oscillator
Quartz TCXO

Average precision after 24 hrs with GPS signal
1x10-9

Average stability after 2 weeks with GPS signal
1x10-7/day

Holdover after 2-week GPS synchronisation
at constant temperature
After 24 hours: 5ms


SECURESYNC
Bodet/Orolia

---

Internal oscillator
Quartz OCXO

Average precision after 24 hrs with GPS signal
2x10-12

Average stability after 2 weeks with GPS signal
5x10-10/day

Holdover after 2-week GPS synchronisation
at constant temperature
After 24 hours: 10μs
Click on one of our two NTP time servers to learn more
Netsilon, the fruit of years of R&D
A modular, versatile system
With over 40 years of expertise in measuring time at a global scale, we have developed a product that can synchronise and distribute time with high precision on all types of devices that can display the time.
In order to adapt our products to the differing requirements imposed by various business sectors, we came up with a modular solution. Our Netsilon 7 NTP time server therefore has 4 insertion slots for module cards. This system makes it possible to add optional features to suit your needs (RJ-45 ports, fibre network, etc.). Thus there is no need to switch to a new time server each time your needs change: Netsilon grows as you do!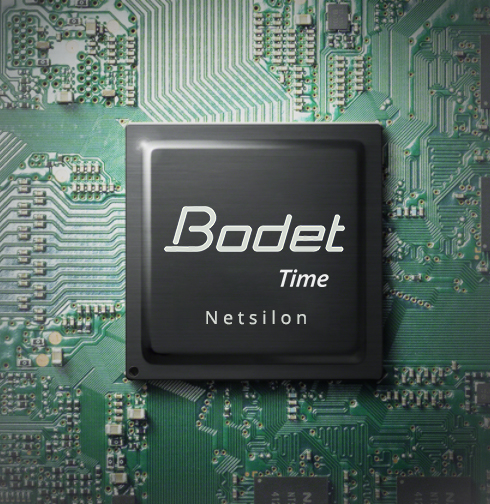 A choice that lasts
The Netsilon 7 time server was designed with the latest standards in terms of reliability, precision, and also usage through a simplified interface. Its upgradeable design makes Netsilon ready for next-generation technology. Netsilon 7 is also designed to adhere to the numerous and rigorous standards and best practices for network security.
This time server, conceived and built by our own teams, is entirely Made in France. And because of its remarkable longevity, choosing Netsilon means choosing a lasting time synchronisation and distribution solution for your organisation.
Request a quote for Netsilon
See Netsilon documentation
Technical features: Netsilon 7
Network protocol
NTP v2 / v3 / v4: Compatible Unicast, Broadcast, Multicast, Anycast, Peering, MD5 encryption and Autokey.
SNTP v4
TIME + DAYTIME protocol
> 2000 NTP requests per second
Network communication
HTTP / HTTPS
SSH v1.3, SSH v1.5 and SSH v2 (OpenSSH)
RJ45 ports (10/100/1000 Base-T)
DB9 connector
USB outlet on front
Network management and supervision
IPv4 & IPv6
DHCPv4 / DHCPv6 (AUTOCONF / SLAAC)
SMTP
SNMP: Supports v1, v2, v2c and v3 (without auth/with auth/priv) with MIB
Relay contact / External input
Mechanical and electrical specifications
Standard metal frame for 19" (48cm) racks
Operating temperature: 0 to 50°C
Protection index: IP41
Weight: 2.5kg
Dimensions: 447 x 264 x 44.2 mm
Power supply (without fan): 18-36 VDC (75W); 100 – 240 VAC; 1.4 – 0.85A
Security features
Enabling/disabling protocols
Protected by unique authentication (username + password)
DES and AES encryptions
SHA1, MD5 authentication
SSL encryption
SCP: Securely copy Netsilon files from an SSH session
SFTP: Exchange data with an FTP server using an SSH encrypted protocol
SNMP: Configuration and remote settings via an encrypted connection
Securesync
In partnership with Orolia, Bodet is offering the SecureSync NTP server in order to transmit very-high-precision synchronisation to computer hardware and communications networks. The SecureSync time server has 6 insertion ports for module boards.
The OCXO oscillator within this equipment makes it possible to achieve a very high level of precision on the order of one nanosecond (10 to the -9 power) per the PTP (Precision Time Protocol) standard, in order to satisfy advanced professional-level requirements.
Request a quote for SECURESYNC
See SECURESYNC documentation
Technical features: SecureSync
Network protocol
NTP v4: Compatible Unicast, Broadcast, Multicast, Peering, MD5 encryption and Autokey.
SNTP v4
LDAP / RADIUS / Syslog
Network communication
HTTP / HTTPS
Telnet / SSH v2
RJ45 ports (10/100 Base-T)
DB9 connector on front
Network management and supervision
IPv4 / IPv6 Dual stack
DHCPv4 / DHCPv6 (AUTOCONF) / SLAAC
SMTP
SNMP v3
FTP Server
Relay contact / External input
Mechanical and electrical specifications
Standard metal frame for 19" (48cm) racks
Operating temperature: -20°C to +65°C
Protection index: IP41
Weight: 2.72kg
Dimensions: 420 x 365 x 44 mm
Power supply (with fan): 100 – 240V AC – 50/60Hz
Security features
Enabling/disabling protocols
Password protection
DES, 3DES and AES encryptions
SHA1, MD5 authentication
SSL encryption
SCP: Secure file transfer with the NTP time server from an SSH session
SFTP: Exchange data with an FTP server using an SSH encrypted protocol
SNMP: Configuration and remote settings via an encrypted connection