Analogue clock: Profil TGV 970 outdoor
Large outdoor analogue clock
Timeless design clock with a perfect and direct reading of time.
Description Profil TGV 970E
Very large hour - minute - seconds LED lit display. These clocks were designed in partnership with the French railways' Bureau of design. Dial with yellow graphics on grey background with hour minute marking. Reinforced thermally-moulded casing.
Areas of application: reception halls, offices, corridors for hospitals, workshops, schools, administrative buildings, etc.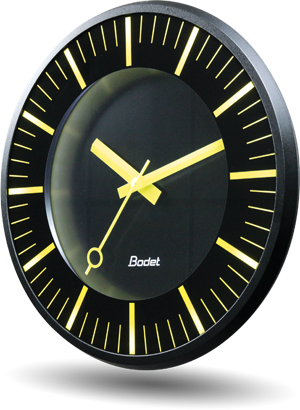 Technical features
Optimal readability : 70 m
Dial diameter : 700 mm
Lighting by long lasting LED (10 years).
Protection index : IP55 / IK07 suitable for outdoor use
Time distribution : NTP, AFNOR, impulsions