LED digital clock: HMS LED 45 cm
LED clock hour-minute-second
Outdoor digital clock, large size for quick and easy reading. Suitable for use in the travel sector, for example in train and subway stations.
Description HMS LED 45
With 45 cm-high digits, the HMS LED 45 clock is an LED clock which can be used to show hours, minutes and seconds in large areas or to time events.
Fixed or alternating display: hour-minute-second, timer/countdown mode, chlorine content, humidity level.
Target markets: train or subway stations, airports, industries.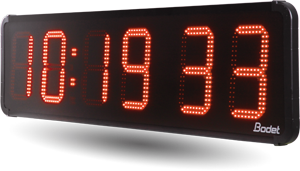 Technical features
Height of figures: 45 cm
Optimal readability: 200 m
Dimensions HxW: 620 x 2400 mm
Protection Index: IP54
LED colours: yellow, white & red
Time distribution: DHF, NTP, AFNOR
Alternating display
Minutes: yes
Seconds: yes
Date: yes
Temperatures: yes
% humidity: yes
Infos: yes
Countdown & timer: yes

HOUR

TEMPERATURE

TIMER