Bodet has developed a wide range of analogue, LED and LCD clocks which are synchronised with time distribution systems to ensure absolute accuracy. Each clock is designed and manufactured to ISO 9001 and ISO 14001 standards.
All our synchronised clocks can be regulated through our time server which uses time distribution protocols such as NTP, IRIG, DHF (wireless), etc. Our solutions can also regulate other systems. The Bodet Group can meet your needs with customised projects.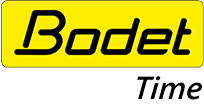 Advantages of a Bodet analogue or digital clock,
and NTP time server:
Synchronisation of time data on all your devices
The time server can be used to distribute the same time to all your clocks and IT devices. In the transport sector, time management is paramount. Bodet provides equipment for many airports and train stations such as Paris Charles de Gaulle Airport, Lyon Airport and Bordeaux train station. The installation of LED or LCD digital clocks or synchronised analogue clocks synchronised with an NTP time server will give you accurate and reliable time.
Monitoring of the progress of your employees' working day and optimisation of workforce efficiency
Companies must install time synchronisation solutions if they are to meet production line deadlines and organise the employees' working day. The use of LED digital clocks with a time server provides better management of company schedules. Bodet has been chosen by Toyota Boshoku and one of Amazon's warehouses to install a time management solution.
Reduction of maintenance costs by the use of automatic updates.
Bodet bell systems have evolved to meet the new requirements of each sector. That is why all Bodet devices offer regular updates to download from our site. Each set of clocks is controlled remotely. This supervised time distribution monitors the clocks and sends alerts. Fewer technician call-outs and reduced maintenance costs.
Why choose Bodet ?
Quality
Bodet is recognized for its know-how and is certified ISO 9001
Innovation
Innovation is at the
heart of our
strategy
International markets
5 subsidiaries in Europe
300 distributors across the world
Technical support
Our experts are available to handle all your
requests
Use of your personal data.
Your personal data will only be used by BODET TIME for the purpose of contacting you. It will be stored until you unsubscribe. You may exercise your rights to access and edit your data by writing to the following address : This email address is being protected from spambots. You need JavaScript enabled to view it. .
Please read our Privacy Policy.