Harmonys microphone
General call over IP
The Harmonys product range consists of audio equipment to broadcast a choice of programmed bell sounds, music, and live or recorded announcements.
Description General call over IP
The Harmonys microphone can be used to broadcast live or recorded announcements throughout a site or within a specific zone. With a capacitive keyboard the microphone offers a practical and ergonomic design.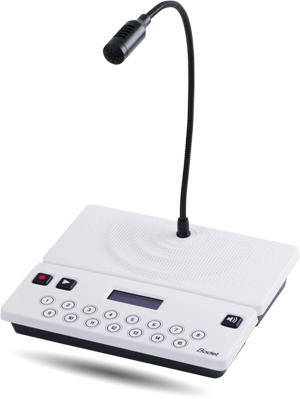 Technical features
Power supply: PoE (Power over Ethernet).
Output level: 58 dB.
Protection index: IP31.
Dimensions: H34/23 x W198 x D167mm.
Power: 8W.
Operating mode
Screen to view the name of calling areas.
Speaker to play back messages.
2 models: 8 or 15 zones.
3 function buttons to record, broadcast live messages and broadcast recorded messages.
Configurable jingle played before the spoken message.