Harmonys Talk smartphone app
To broadcast microphone announcements
Harmonys Talk is a free microphone app compatible with Apple® and Android™.
Description Harmonys Talk smartphone app
The "Harmonys Talk" app allows you to broadcast microphone announcements using your smartphone.
You can make microphone announcements to all speakers or the speakers in certain zones.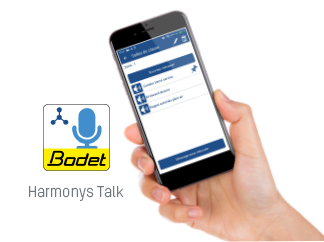 Technical features
Compatible with the following operating systems: Android (Mimimun required version: Android 4.0) and iOS (Minimum required version: iOS8)
Operating modes
Using your smartphone microphone, you can broadcast recorded voice announcements.