LED Digital clock: Style 7 Date
LED clock with 7 cm digits displaying date, hours and minutes
Our Style LED clock range can be read extremely quickly and easily, thanks to its digital display. This is why this model has become popular in the healthcare, transport and industry sectors.
Description Style 7 Date
The STYLE 7D is an LED wall clock with 7 cm digits displaying hours, minutes and the date. It also features an alternating display – day of the week, day number, week number, seconds, temperature – plus a further option of alternating between two languages for the date.
This clock is designed mainly for the administrative, healthcare, financial and industrial sectors. Ideal for trading and meeting rooms.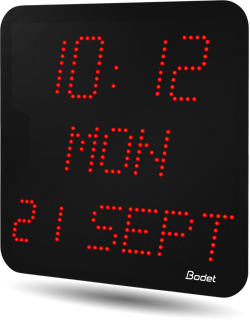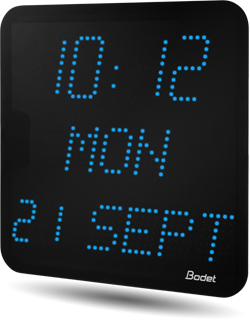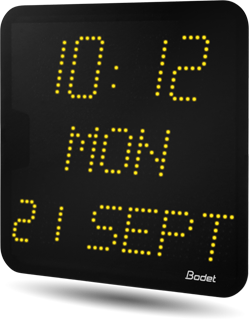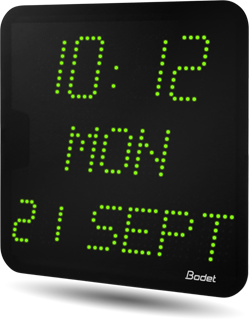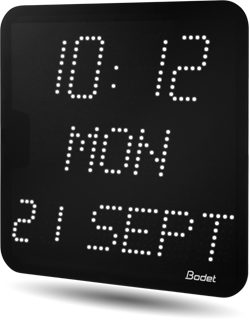 Technical features
Optimal reading : 30 m
Height of figures : 7 cm (hour) 5 cm (date)
Dimensions HxW : 320 x 320 mm
Time distribution : DHF, NTP (Ethernet, Wi-Fi), AFNOR, impulsions, ALS 162/DCF
Reading angle : 120°
Weight : 0,965 kg
Waterproof (IP55): yes
Recess Mounting : yes
Alternating display
Date : yes
Week number : yes
Seconds : yes
Temperature : yes
5 LED colours :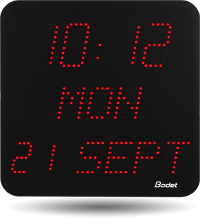 HOUR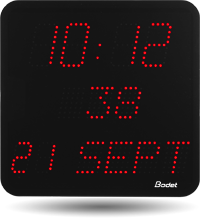 SECONDS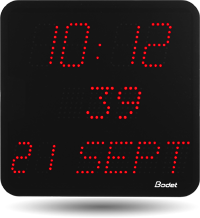 WEEK NUMBER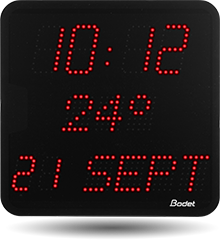 TEMPERATURE
The full Style range