Guaranteed to satisfy requirements of hygiene and accuracy
Indoor LED clock / Style 7SOP
This recess-mountable LED digital clock was designed to meet strict specifications in line with specific requirements for hospital environments.
Specifically designed for hospitals
The design of the Style 7SOP is entirely based on one major objective: to comply with required hygiene standards in hospitals and, more specifically, in operating theatres. This involves a particular choice of materials and also a specific method of installation. Accordingly, the stainless steel casing and glass face make the clock easy to clean, while the flush-fit recess mounting prevents any build-up of dust.
Because every second counts
To guarantee an accurate time display in operating theatres, the seconds are displayed continuously on the clock, alongside the hours and minutes. During an operation, the integrated stopwatch/timer feature with keyboard is a real must for monitoring the time of the anaesthetic or the duration of any surgical procedure.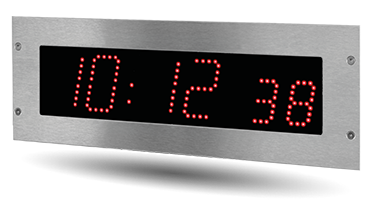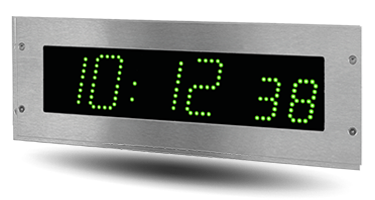 Technical features
Optimal viewing distance: 30 m
Display height: 70 mm (hours/minutes), 50 mm (seconds).
H x L dimensions: 147 x 460 mm
LED colours: red, green
Time distribution: DHF, NTP, AFNOR, impulse
Reading angle: 120°
Weight: 2.2 kg
Waterproof: yes
Recess mountable: yes
Available features
Date: yes
Week number: yes
Seconds: yes
Stopwatch/timer: yes
Temperature: no

Display time

Display date

Display week
The full Style range