What is the purpose of IP technology?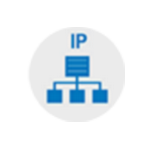 The IP technology consists of using the computer network to configure and control audio systems among other things.
This technology is available with the Bodet Harmonys range of products which makes it possible to broadcast ringtones, music, vocal calls as well as emergency messages.
The IP technology presents several advantages:
Simplicity of installation since it uses the existing computer network.
Simplification of the wiring with the PoE (Power over Ethernet) power supply technology.
Easy and quick configuration of equipment with the Sigma software application.
>>More information on BODET IP SOLUTIONS