Time servers - Welcome to the world of time accuracy
Delivering highly accurate time information to any IT equipment.
Bodet time servers ensure time synchronisation using standard protocols such as NTP and PTP.

Better understand time servers.
To better choose yours.
Why choose a time server?
Time synchronisation for your clocks and IT equipment
The development of information technology and IP network systems require a reliable and accurate time source. Clock systems embedded in computers and any other IT or electronic device have not a precise time information. They are set with a minute accuracy time information.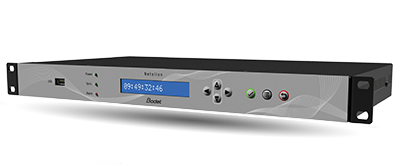 NTP and PTP time servers combine the accuracy of a master clock and a secure approach to IT networks:
High-precision internal clock: TCXO or OCXO.
Multi-source synchronisation: Satellite (GPS, GLONASS, BeiDou, Galileo), Radio (ALS162, DCF77), Network (NTP, PTP, IRIG).
Modular design: offers a wide variety of input and output signals with multiple option cards available (NTP, PTP, IRIG, ASCII, 1PPS, etc.).
Network security management: Enable or disable encryption, authentication and access protocols.
Notification and supervision: SNMP traps, e-mail, and relay contact.
Time server: a safe and reliable solution
To sync your devices with your IT network, the safest and most reliable method is having a dedicated time server.
This provides you with a reliable and accurate time source in your network infrastructure and limits the risk of cyber attacks.
Proximity (between the server and the network) ensures minimal lag between your time server and your computers, your IP equipment (video surveillance, access, etc.) and your clocks, thereby allowing time synchronisation with even greater precision for your business.
Example NTP time server installation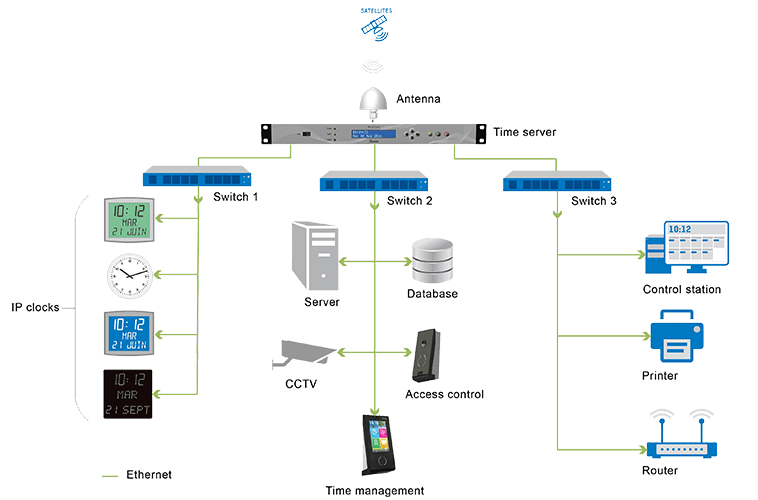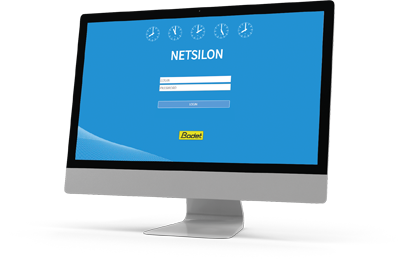 Remote management without installing software
Our time servers can be configured and administered by a simple, user-friendly web interface.
Secure access to the web interface (HTTPS)
Simple to use
Configuration made easier with graphical icons
Performance status: Sources, outputs, alarms, etc.
Performance visualisation
For seamless integration into your infrastructure, Netsilon can also be administered and monitored via SSH or SNMP.