Lockdown remote control
Lockdown alert HF radio remote control
Remote control to trigger the lockdown alert in schools and colleges.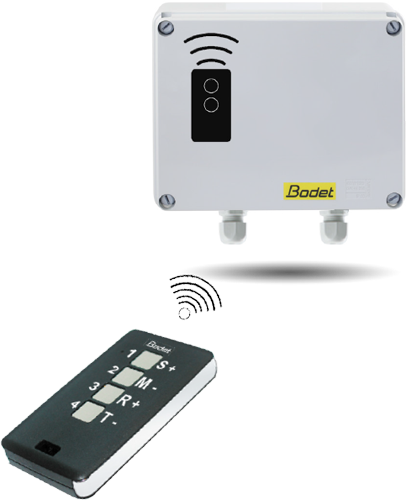 Lockdown Alert System Remote Control Description
The Lora Remote Control instantly triggers the broadcast of a lockdown alert on Harmonys and Melodys speakers.
Up to 48 remote controls can be paired with the receiver.
Technical features
Power supply:
- Remote control: 3V (CR2032 lithium battery)
- Receiver: 12V from the master clock GNSS or DHF input
- Receiver: 24 V from the master clock impulse output
Dimensions HxLxD:
- Remote control: 72x39x11mm
- Receiver: 80x120x50mm
Consumption:
- Broadcast: 35 mA
- Cut-off: 16 mA
Output signal power: 10 mW
Frequency: 868.30 MHz
Receiver protection index: IP56, IK08
Operating modes
Receiver connected to the Sigma master clock on its external input or 3-input add-on board.
4-key remote control to control up to 4 relays (DIP switch configuration of controls which are independent or shared between the relays).