Indoor Melodys Flash
Indoor luminous alert
Using radio signals, Melodys speakers broadcast bell sounds, melodies and warning messages. These speakers are managed by a master clock and do not require any wiring.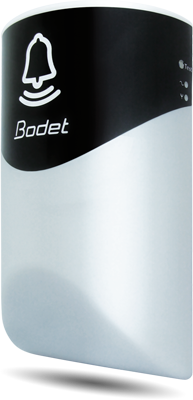 Description Indoor Melodys Flash
Controlled by the Sigma master clock.
Flashing white LED with 4 levels of brightness.
Wireless DHF installation.
Technical features
Power supply: 230 VAC 50 /60 Hz.
Protection index: non waterproof casing.
Dimensions: H157x W93 x D47mm.
Consumption: 50mA / 6,5W.
Mounting method: Wall or ceiling.
Weight: 350g.
Operating modes
2 types of flashing: "Normal" mode or Safety and Emergency Procedure (SEP) mode