New references section now available!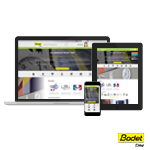 Our website needs to keep in step with the constant developments of Bodet Time. We have therefore modernised and expanded the references section to give you more information about the solutions provided to organisations that rely on Bodet Time.

Sorted by business sector (education, healthcare, transport, etc.), the references section will help simplify your search. According to your market sector, you can now appreciate and analyse the requirements of these different organisations.Bodet has a worldwide presence. And thus a great many references. You will find organisations such as Amazon, SNCF, CHU Normandie, Sciences Po, and many more... By choosing Bodet Time, you will have the added assurance of receiving a reliable service, both in France and abroad.We also recognise that, with all the different solutions we have available (bell and alert systems, LED display, time synchronisation and industrial clocks), you may find it difficult to choose the right products to suit your requirements. This is why we have developed the references section. You will find it easier to choose if you compare your own wish list with the Bodet equipment installed at other organisations within the same market sector.
>> Find out more about all the advantages of this new references section