Bodet Time solutions at the Facilites Show in London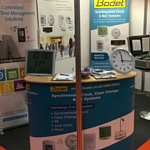 Bodet Time exhibited at the Facilites Show at excel center in London presenting synchronised clock & Harmonys bell systems.
From 21st - 23rd June, the Facilities Show ran at the Excel Centre in London and the show was very successful for BODET clock and Bell solutions.
Harmonys Bell system was particularly of interest with ability to propose 5 solutions, all in in one package : clocks, bells, PA functionality, lockdown alert and streaming music with functions over your existing network.
Please contact us for more information on our BODET Synchronised Clock & Bell Systems