The port of Oran in Algeria is equipped with 4 dials by BODET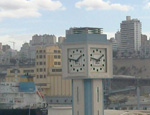 The 4 sided clock installed in Oran is now controlled by a Sigma master clock.
Installed by Bodet in 1987, the 4 dials have been giving the time to Oran for 29 years. Now, the dials benefit from the last technologies with the latest Sigma master clock. Oran called "the radiant" is the second most important city in Algeria and is located 432 km from the capital Algiers.
More information on Sigma Master Clocks and BODET dials