GNSS, GPS, Galileo, ALS162, DCF77 antenna
Antennas and accessories for time servers
For perfect control and quality, Bodet designs its own antennas and uses reception modules from leaders such as UBlox. The form of our antennas is specifically designed to optimise signal reception and ensure an excellent resistance to climate conditions
Satellite antenna
Bodet offers three types of antennas: Single Constellation Antenna (GPS or Galileo), Multi Constellation GNSS Antenna and a GNSS Interface.
Type
Signals
Usage
Installation
Options
Advanced functions

Single constellation antenna
GPS or Galileo
Synchronisation with low timing constraint (Millisecond)
Exterior (roof).
Protection index IP65, IK04
Lightning arrester
/

Multi constellation antenna
GPS, Galileo, Beido, Glonass
Synchronisation with high timing constraint (Nanosecond)
Exterior (roof).
Protection index IP65, IK04
Lightning arrester
Anti-Jamming
Anti Spoofing

Multi Constellation Interface
GPS, Galileo, Beido, Glonass
Synchronisation via existing client antenna
Indoor (technical facility).
Protection index IP41
/
/
Which satellite antenna to choose?
Our single constellation antennas receive signals from one constellation (GPS or Galileo) in a wide spectrum (satellites anywhere from the horizon or straight above and all intermediate positions in the sky). Installing them is easy and sufficient for non-critical or non-sensitive applications.
If the time reference is a sensitive data for the proper functioning of your infrastructure (finance, transport, etc.), you should consider a more complete and effective solution.
Indeed, interference is possible (whether unintentional from other transmitters such as communication towers or intentional from illegal "jammers") and can disrupt the reception of the satellite signal. Our multi constellation antenna coupled with our jamming and spoofing detection solution guarantees optimal time synchronisation while avoiding interference
Simplified installation: Unlike other competitors, our antennas do not use coaxial cables (limited length, high cable price) and enable distances of up to 1,000 m (Multi constellation model) between the time server and the antenna.
Rollover immunity: Our GPS, Galileo and GNSS antennas manage rollover and guarantee reliability and accuracy over time.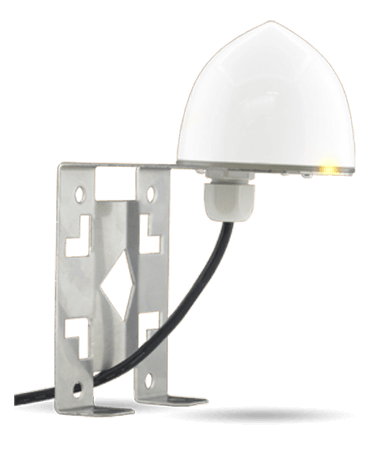 Radio Antenna
Bodet offers two types of antennas: ALS162 Antenna (French Transmitter), DCF77 Antenna (German Transmitter)
Type
Signals
Usage
Installation

ALS antenna
ALS162
Synchronisation with low timing constraint (Millisecond)
For indoor or outdoor use.
Protection index IP53, IK04

DCF antenna
DCF77
Synchronisation with low timing constraint (Millisecond)
For indoor or outdoor use.
Protection index IP53, IK04