Melodys high power speaker - Outdoor
Outdoor High power Speaker
Using radio signals, Melodys speakers broadcast bell sounds, melodies and warning messages. These speakers are managed by a master clock and do not require any wiring.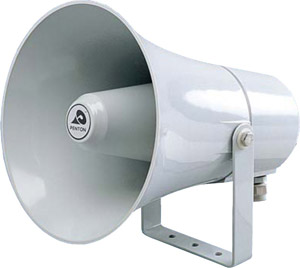 Description Outdoor High power Speaker
Speaker with 16 pre-recorded melodies.
1 or 2 loudspeakers and a control box. Integrated amplifier with volume control.
For scheduled ringing and Safety and Emergency Procedure alarms (S.E.P.).
Technical features
Power supply: 100 to 240V.
Output level: 110 dB.
Protection index loudspeaker: IP54.
Protection index control box: IP54 / IK08.
Dimensions loudspeaker: H254 x Ø203 mm.
Dimensions control box: H78 x W220 x D154 mm.
Power: 20W.
Operating modes
DHF: radio controlled by the Sigma master clock.
Wired: control by a Sigma master clock or of SEP alarms by a push-button.
Optionnal accessory: Add your own melodies with the optional SD card.