New additions to the Harmonys range: easier management of your bells, announcements and lockdown alerts.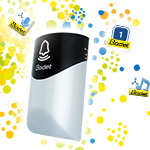 Harmonys is a range of audio systems powered via the IT network. Simple to install, this audio over IP system adapts and evolves to meet your needs. This innovative range has been expanded to meet the needs of schools for broadcasting lockdown alerts.

Discover what's new!
Visual alerts
Its range of devices includes: Harmonys internal flash and Harmonys external flash. These luminous speakers emit flashes of light in tandem with the bell schedule and alert system. For this reason they are perfectly suited to the needs of hearing-impaired people and noisy environments.
Applications
Also new to the Harmonys range are applications for easier management of your audio over IP system. Firstly the Harmonys Notify application offers enhanced mobility: alerts can be triggered from a smartphone or a PC. In some ways it virtualises the control-box. Secondly, the Harmonys Talk microphone application allows you to record voice announcements on your smartphone. You can also choose the broadcast zone for your message and schedule it. Last, the Harmonys Stream application is used to broadcast your streaming from your PC to one or several speakers.
>> Discover the Harmonys audio over IP system and its range of devices here