The features of our time servers |Bodet TIME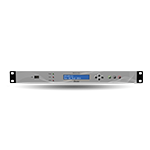 What company hasn't dreamed of a made-to-measure solution that could guarantee the time synchronisation of its clocks and IT equipment?

Time management is increasingly important in the administration of an organisation, as it facilitates good coordination of business activity and promotes peace of mind both inside and outside the organisation.
That is why, with their Netsilon time server, Bodet has developed a solution that adapts to your business and its relative needs regarding time management as well as the security of your IT system.
Through the use of option cards, our time servers are modular and scalable. These cards let you increase the compatibility of your IT network and set your server according to your needs.
The Netsilon solution is particularly suited to the Health, Industry and Transport sectors and to Data Centres.
>>Have a look at the possible applications of a time server for your business sector.