Our new range of PROFIL 700 analogue clocks has arrived!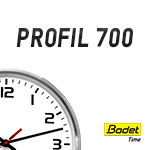 Following last year's release of our 30cm diameter metal analogue clock, we have developed a superior model to create the new PROFIL 700 range!

Available in two diameters, 30 cm and 40 cm, this brushed stainless steel clock with a tempered glass front offers a clean, uncluttered design. The PROFIL 730 (diameter 30 cm) and PROFIL 740 (diameter 40 cm) analogue clocks are particularly well suited to hospital and industrial environments.In addition, thanks to their fixing disc, the analogue clocks in the PROFIL 700 range can be installed closer to the wall, reducing dirt accumulation and offering improved aesthetics. It is also possible to mount the PROFIL 700 analog clocks on both sides of a mast. Across our PROFILE analogue clock ranges, you will find a variety of time synchronisation and distribution solutions.Our PROFIL 900 range offers you a wide choice of indoor or outdoor models, ranging from 30 cm to 60 cm in diameter, with various case colours and dials. Our PROFIL TGV range was designed in collaboration with the design office for France's SNCF rail operator. This range of analogue clocks is specifically designed for transport use.
>> Discover the new range of Bodet PROFIL 700 analogue clocks.