Bodet Time launches a new silent analogue clock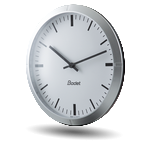 Tick-tock, tick-tock… Who has ever wished to possess a clock that was not making any noise? From now on it is possible with the Silent Profil930 analogue clock!
Its « sweep second » movement sweeps the seconds silently.
This clock is ideal for places where silence and discretion are necessary, such as hospitals, reception halls, offices, schools, administration buildings, libraries…
The silent Profil930 analogue clock is available with the NTP (Network Time Protocol) technology, the time signal being directly distributed on the existing IP network.