New "downloads space": get the latest updates for your Bodet equipment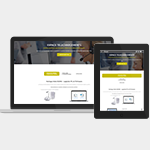 The new downloads space, where you can get the latest updates for your equipment, is now online. From here, you can easily download Software and Firmware for Bodet Time products for free.


Our products are constantly changing. To ensure your system always performs efficiently, it is important that you regularly run updates. We also recommend updating your entire system to guarantee its consistency and avoid malfunctions
This intuitive space has downloads to suit your type of equipment: Master Clocks & Time Servers, Speakers & Microphones, and Clocks.You will also find our Bodet Detect and NTP Monitor (free and trial versions) software in this space.
If you're unsure of which downloads to use, or cannot find an update that matches your equipment, please contact customer support.