Good news ! Bodet time servers are now listed on the Galileo website
In the section named "on time", the Netsilon are officially mentioned in the directory of devices compatible with the Galileo satellite positioning system for the energy (Netsilon 7, 9 and 11) and finance ( Netsilon 9 and 11). Our systems are compliant with the technical and regulatory requirements for these two markets. The Netsilon is therefore a robust piece of equipment in terms of time precision and synchronization.
To find out more about this referencing, we invite you to visit the following page: https://www.usegalileo.eu/EN/inner.html#data=timing
What is the role of the Galileo Service?
The Galileo service lists companies that have created receivers compatible with the Galileo system and available on the market. This service, open to all customers, suppliers and market players, is a real tool for users. It is directly managed by the GSA (Global Navigation Satellite Systems Agency), a European organisation which main missions are to provide and maintain secure, safe and accessible European GNSS (Global Navigation Satellite Systems) services, to meet the needs of users and to support Galileo's economic growth and competitiveness by engaging the market's technological players and industries.
What is Galileo?
Galileo is the European satellite navigation system developed by the European Union launched in 2003 and operational since 2016. Ultimately, it will consist of 30 satellites, 6 of which are spare. This set of satellites is called a "constellation". Like the American GPS, Russian GLONASS and Chinese BeiDouu systems, it enables to a user-receiving terminal to obtain its position as well as the universal time.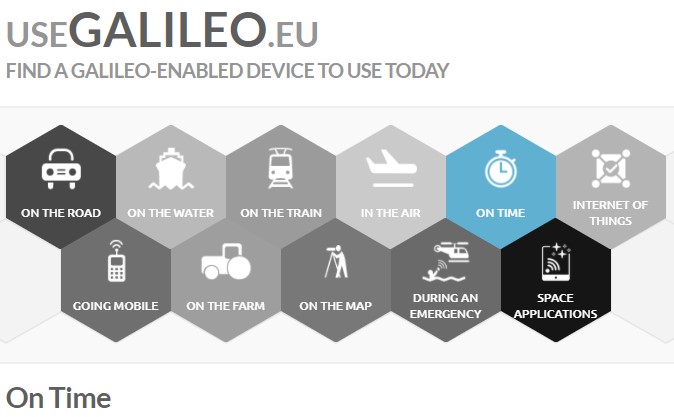 What are navigation satellites used for?
It is important to remember that navigation satellites have now become essential geo-positioning means in our daily lives. They emit their own specific navigation signal and thus make it possible to provide positioning and time services.

Around the world, they are commonly used in many areas of civil and military activities such as agriculture, maritime, air and land transport, relief and rescue operations, public works, or oil exploration.

Individuals also use it in everyday life with their phones or cars to obtain real-time geolocation.

Many systems operate continuously with these autonomous satellites. Even time servers including the Netsilon time server use GNSS antennas for time synchronization. To protect against jamming and spoofing, the time server is connected to a GNSS receiving antenna coupled with the internal software for analyzing and detecting false information. Other solutions are possible to overcome interference such as remote multi-site installations or multi-source installations.

To find out more about the applications offered by the Netsilon time server, visit the following webpage: https://www.bodet-time.com/products/time-server/possible-applications.html