New product release: Bodet Time clocks for the transport market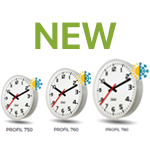 Airport, rail and waterway transport need to display precise, reliable and accurate time. Our new Profil 750, 760 and 780 clocks display essential information and are a perfect fit for the transport sector. Discover them.
Since we want to meet every need, we extended our Profil 700 clock range with 3 new clocks that are perfectly adapted to the needs of the rail and air transport market: the Profil 750, 760 and 780.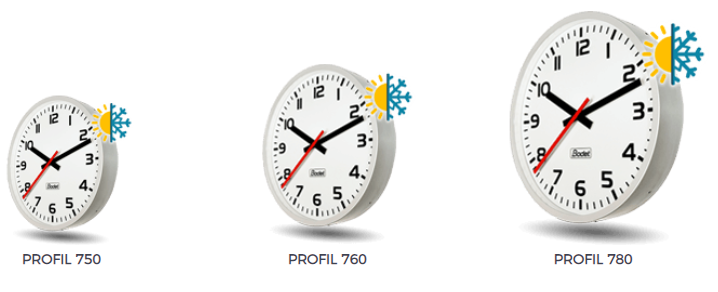 Understated, timeless and universal, they match all architectural styles of the transport sector and complete our entire range of clocks. These new clocks can also fit in all places where people pass through. They are perfectly suited to entrance halls, platforms, corridors and underground areas of stations, metros, tramways or airports. They provide a quick and easy reading at any distance with their hour-minute or hour-minute-second hands, as well as a readability of 50 up to 80 m depending on the diameter of the clock.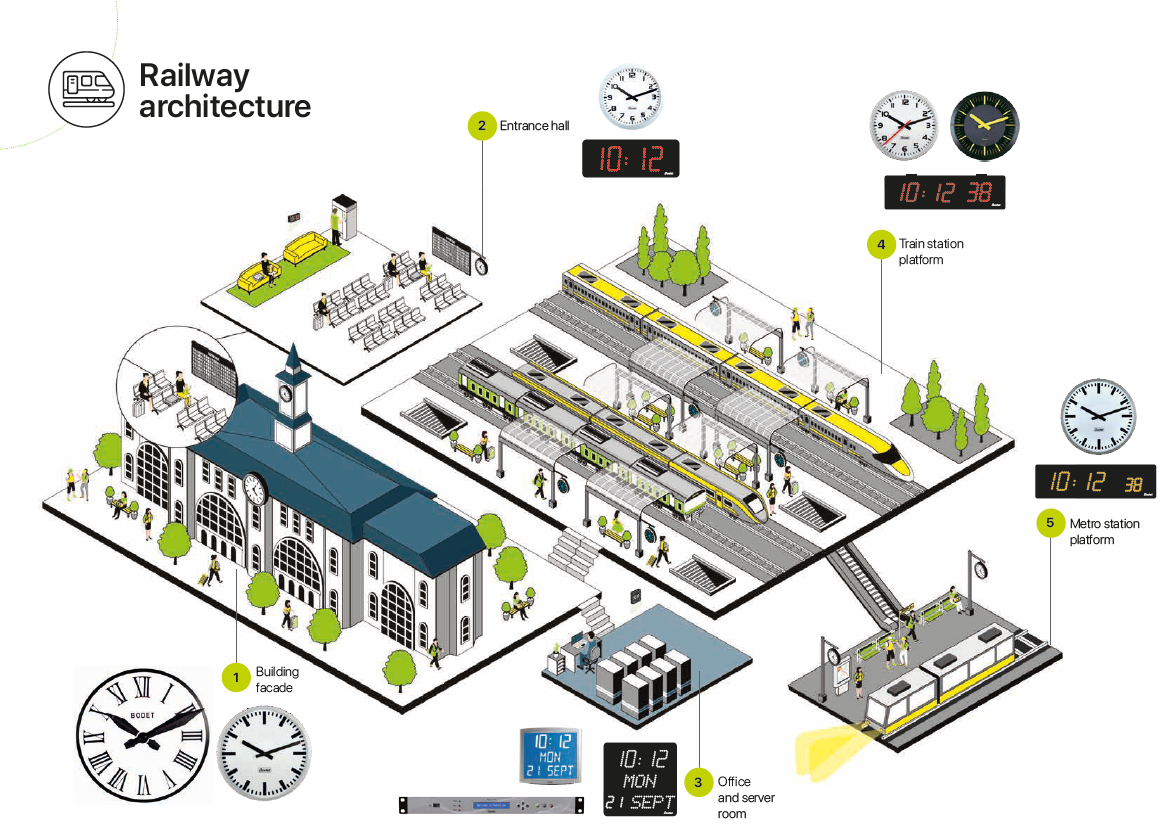 Robust clocks
Designed for the most difficult outdoor environments and capable of withstanding all climatic variations, the Profil 750, 760 and 780 withstand extreme temperatures from -20°C up to +55°C as well as heavy rainfalls and high-pressure cleaning. They meet the highest standards of impermeability (IP54 as standard or IP65 as an option).
Since outdoor clocks can be subject to vandalism, thanks to their polycarbonate glass, the Profil 750, 760 and 780 withstand external impacts such as stone impacts, including ballast projections (IK 08 as standard/IK09 as an option).
Customisable clocks
The Profil 750, 760 and 780 clocks are customisable in order to meet all needs:
- Single or double-sided
- 3 diameters to choose from: 50 cm, 60 cm or 80 cm
- Polycarbonate or tempered glass
- 3 dial markings to adapt to visual habits or architectural styles (figures, DIN or notches)
- Lighting as an option
- Synchronisation: IMPULSE, AFNOR, NTP, GPS and Radio (ALS or DCF)
- Hour-Minute or Hour-Minute-Second display
Why is displaying an accurate time essential in a railway or airport network?
In the railway and airport sectors, displaying an accurate time is essential for travellers and employees. Time precision is relied upon to coordinate operations across railway and airport networks to manage departures and arrivals, to anticipate delays, etc. A single time reference must be deployed across all devices on the IT network to achieve synchronisation, particularly clocks, computers, ticket machines, video surveillance systems, radio communication, boarding desks, telephones, and so on.
For more information, discover our Netsilon time server: https://www.bodet-time.com/products/time-server/possible-applications.html