Health care: BODET exports clocks to Morocco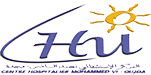 Oujda Hospital is equipped with 276 BODET Led clocks.
276 BODET Style digital clock are installed in Oujda Hospital in Morocco. Located in North East of Morocco, near Algeria, Oujda city has an estimated population of 450,000.
This major reference is completing the long list of hospitals equipped with BODET clocks.
More information on Digital Clocks Style