The artist Hugo Kostrzewa composes bell ringing melodies for the French Lycée Pasteur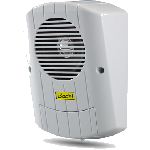 This is a world premiere!
The Lycée Pasteur in Lille, France, has replaced monotones and stressful bell ringing melodies for the class change by poesy inspiring melodies.
The beginning and end of class are now paced by melodies called « Sharawaggi » created by the artist Hugo Kostrzewa.
The customization of the melodies is, indeed, possible with the BODET Melodys and Harmonys speaker systems.