Stay on time with the Bodet clocks!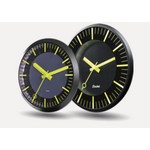 The winter time changeover will occur this weekend during the Saturday to Sunday night. Indeed, at 03:00 the clocks need to be set back at 02:00.
Every year the clocks and watches have to reset.
With Bodet clocks, the time will automatically set itself through synchronisation with a radio transmitter or a GPS antenna.
The synchronisation of the clocks guarantees an absolute and reliable time precision allowing cost savings on clock resetting charges.

More information on Bodet-time clock systems.