Bodet supplies the City International Hospital in Vitenam

Bodet supplies the City International Hospital in Vitenam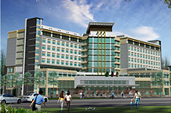 The City International Hospital in Ho Chi Minh City, opening in first quarter 2013, will be equipped with BODET LED digital clocks.
The CIH is a 320-bed multi-specialty hospital.
It is managed by ParkwayHealth, a Singapore-based leading private healthcare group in Asia, with a network of 16 hospitals and more than 3,400 beds throughout Asia.